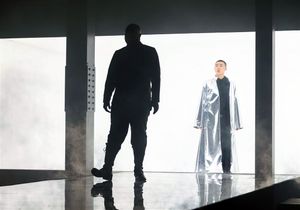 Praised for his "otherworldly flourish" (The Wall Street Journal), "intense stage presence" (Classical Voice North America), and "natural, sensitive feel with embedded lyrical nuance" (The Millbrook Independent), Chinese countertenor Chuanyuan Liu (刘川源) is proving himself a strong presence amidst the new generation of countertenors. His deep passion for story-telling inspires him to connect with his audience through empathy, authenticity, and creativity. 
Raised in China, but having spent his adulthood in the US, Chuanyuan is dedicated to seeking out musical projects that celebrate both the commonalities and the differences of the two worlds. He begins his 2023-24 season with one such project, performing the title role in White Snake Projects' critically acclaimed world premiere of Monkey by Jorge Sosa and Cerise Jacobs. His 2023-24 season unfolds with performances at the Boston Text and Tone Festival launching concert and Gigli International Opera's Gala concert. Later in the season, Chuanyuan prepares for his debut at Carnegie Hall as a participant in Renée Fleming's SongStudio.
During the 2022-23 season, Chuanyuan returned to Toledo Symphony Orchestra as the alto soloist in Handel's Messiah, and to Pittsburgh Opera for his role debut of Polinesso in the Pittsburgh premiere of Handel's Ariodante. Later in the season he debuted the role of Ottone in a new production of Handel's Agrippina with CCM Opera. He also made his company and role debut with Victory Hall Opera in their innovative Orpheus & Erica: a Deaf opera, playing Amore and covering Orfeo. Chuanyuan was a Renée Fleming Artist at the Aspen Opera Theater and VocalARTS (AOTVA) program, debuting the role of César in Jimmy Lopez and Nilo Cruz's Bel Canto and performing in numerous opera, art song, and chamber music concerts.
 "Countertenor Chuanyuan Liu as Cherubino excelled in both singing and stage presence." 
—HARVEY STEIMAN, ASPEN TIMES, LE NOZZE DI FIGARO (Act IV), Aspen Opera Theater
The 2021-22 season provided a wonderful outlet for Chuanyuan's passion for contemporary music, seeing him in three world premiere operas. He made his professional operatic debut at Pittsburgh Opera in Christopher Cerrone and Stephanie Fleischmann's critically acclaimed In a Grove (The Priest/The Medium), and made his Verizon Hall and Philadelphia Orchestra debut in the concert version of Kevin Puts and Greg Pierce's The Hours (Man Under the Arch/Hotel Clerk). Chuanyuan then covered the leading role of Song Liling in Huang Ruo and David Henry Hwang's imaginative and intersectional work, M. Butterfly 蝴蝶君 during Santa Fe Opera's summer 2022 season.
A proponent of self-curated projects, Chuanyuan seeks to establish collaborations and create programs that spur socio-cultural discussions and demonstrate the universality of individual experiences. In tribute to 2022 AAPI Heritage Month, Chuanyuan directed, performed in, and produced a short film of Christopher Cerrone's That Night With The Green Sky as a reflection on the escalation of Asian-targeted hate crimes since the outburst of COVID-19. In 2020, he curated and performed neither here nor there, a recital highlighting the Asian/-American experience, featuring vocal music by Asian-American composers and poets. Chuanyuan worked closely with featured composers, including Filipino-American composer Dante De Silva whose Where Would I Go? was premiered on the program. Chuanyuan is an active member of Asian Opera Alliance, and Aural Compass Projects' Wear Yellow Proudly initiative, and has appeared as a guest artist for Fill in the Blank Ensemble and Vision Possible Charity Concert Series. In March 2020, he co-wrote and performed as Mercédès in the gender-bending pastiche opera Rest in Pieces: In Memory of Opera, directed by Stephanie Blythe.  
On the concert stage, Chuanyuan has appeared as the alto soloist in Handel's Messiah with Toledo Symphony Orchestra, as a recitalist at Troy Savings Bank Music Hall as part of Albany Symphony's Clara Schumann Festival, and as the countertenor soloist in Bernstein's Missa Brevis with the UVA Chamber Singers. His planned 2020 debut with The Orchestra Now (TŌN) as the alto soloist in J.S. Bach's Magnificat in D was canceled due to the COVID-19 pandemic.  
 "Liu (was) particularly effective, with a floating, ethereal performance as the medium." 
—Jeremy Reynolds, Pittsburgh Post-Gazette, IN A GROVE, PITTSBURGH OPERA
Other past role and scene credits include Cardinal 1/Oracle 1 (Galileo Galilei), Anna I (The Seven Deadly Sins), Arsamene (Serse), Bertarido (Rodelinda), Orphée (Orphée et Eurydice), Hänsel/Sandmann (Hänsel und Gretel), Nireno (Giulio Cesare), Fidalma (Il matrimonio segreto), Nerone (L'incoronazione di Poppea), and Damon (Acis and Galatea).